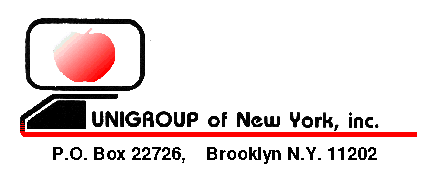 Unigroup of New York, Inc. - New York City's Unix User's Group
---
Unigroup Background
Unigroup is the oldest and largest Unix User's Group (Unix/Linux/BSD) serving the Greater New York City Regional Area since the early 1980s. Unigroup has been serving the NYC Unix/BSD Community for over 30 years, and the NYC Linux Community for over 20 years!
Unigroup is a not-for-profit, vendor and platform neutral, member funded, volunteer organization. Unigroup holds regular and special event meetings throughout the year on technical topics relating to the Unix/Linux/BSD Operating Systems and the Unix/Linux/BSD User Community. Most Unigroup meetings are open to the public!
Unigroup presentations cover topics relating to both Unix and Unix-like Operating Systems (Unix/Linux/BSD), as well as other related technologies including: Computers, Communications, Cryptography, Databases, Storage, Internet, Networking, Security, Programming Languages, Software Development, Web Development, Systems Administration, DevOps, Datacenter, High Performance and Low Latency Computing/Networking, Embedded Computing, IT Technology, Free Software, Open Source and Software Tools.
Unigroup meeting topics span ALL varieties of UNIX, BSD, LINUX, and related Operating Systems, covering both Commercial / Closed Source, and Freely Available / Open Source: projects, products, methods and tools. Our Unix/BSD/Linux technical presentations have covered subject matter relating to the following operating systems and projects: AIX; HP-UX, True64, Ultrix; IRIX; OS/X, A/UX; SCO, OpenServer, UnixWare, OpenUnix, Xenix; Solaris, OpenSolaris, SunOS, UnbreakableLinux; FreeBSD, NetBSD, OpenBSD, BSD/OS; RedHat, CentOS, Fedora; SuSE, OpenSUSE; Debian, Ubuntu, Knoppix, Raspbian; Caldera, OpenLinux; Plan9; as well as a variety of other distributions.
Spanning its 30+ year history, Unigroup has presented technical meetings covering IT Technology which is of interest to a broad audience of IT Professionals, including: Software and Web Developers, System Administrators, System Engineers, System Architects, Security Administrators, Network Administrators, Database Administrators, End-Users and Computer Enthusiasts. Unigroup has historically had a large percentage of Wall-Street/Financial and Banking/Brokerage professionals attending our meetings. Unigroup is known for being one of the most Technical User Groups around NYC, and with 2.5 hours of presentation time available, we are able to explore the meeting subject matter in depth.
Next Meeting:
Unigroup's December 2014 Meeting will be a NYC Technical Groups Holiday Party (Field-Trip) located at Clyde Frazier's Wine and Dine, 485 10th Avenue, Midtown, NYC on MONDAY, December 1st, 2014 (** SPECIAL 1st MONDAY Event **) at 7:00pm.
Our meeting topic is: NYC Technical Groups Holiday Party 2014.
RSVP for Unigroup's next meeting via the Unigroup Next General Meeting Page, this page includes information specific to the upcoming meeting.
Upcoming Unigroup Meetings/Events:
01-DEC-2014: [1st MONDAY] NYC Tech Groups Holiday Party.
15-JAN-2015: [3rd Thursday] FreeBSD Kernel Debugging using the Bhyve Hypervisor.
Postponed: Open Compute Hardware Platform (Speakers: Penguin Computing).
---
Unigroup Meetings: Topics and Agenda
---
Unigroup Membership and Meeting Information
---
Unigroup Contact Information
Contact us by Electronic Mail at: unigroup@unigroup.org
Contact the Board of Directors at: uniboard@unigroup.org
---
Unigroup Board of Directors and Volunteers
---
Unilist - Unigroup's Electronic Mail Mailing List
Unigroup maintains an Electronic Mail Mailing List to which we send out Unigroup announcements, regional technical events, trade show and conference notifications, as well as announcements from other user groups around the area. Anyone may request to be added to this list by sending a Subscribe Unilist Request to: unilist@unigroup.org
Unigroup Publication Archives:
---
Unigroup Announcements
The current Unigroup Meeting Announcement is available on Unigroup's Web Server under the URL http://www.unigroup.org.
Please always check the Unigroup Home Page and Unigroup Next Meeting Page for the latest information. Unigroup announcements are Emailed, and current/past meeting information is posted on our web site.
---
Unigroup's News and Special Event Listings
Follow this link to see News about User Group Meetings and other Special Events in our area.
---
Other Unix Related Sites
---
User Groups
Greater N.Y.C. Regional User Groups: Casandra'a NY/NJ/CT Computer User Groups List, Brian's New York City User Groups Calendar, Usenix USA User Groups, Usenix/SAGE Local USA User Groups.

Greater N.Y.C. Regional Unix/Linux/BSD User Groups: UNIGROUP - NYC (Unix/Linux/BSD), NYCBUG - NYC (BSD Unix), PowerAIX/Linux - NYC (IBM AIX Unix), LOPSA-NJ - NJ (SysAdmin), LOPSA-NYC - NYC (SysAdmin), NYLUG - NYC (Linux), NYLXS - NYC (Linux), LXNY - NYC (Linux), LUNY - NYC (Linux), LILUG - NY/Long Island LUG (Linux), MHVLUG - NY/Mid-Hudson Valley LUG (Linux), NJLINUX - NJ/Paramus (Linux), DACS - CT/Danbury Area Computer Society (Linux SIG), Casandra's NYC Area Unix/Linux Groups.
---
We Need Your Help
Unigroup needs your help! Please contact us if you can help out in any of the following areas:
Meeting Topics
Meeting Speakers
Organization and Setup of Regular Meetings
Organization and Setup of Unigroup's Booth at Trade Shows
Volunteering to Help Staff Unigroup's Booth at Trade Shows
---
Webmaster (unilist@unigroup.org)
Copyright © 1996-2014 Unigroup of New York, Inc., All rights reserved.