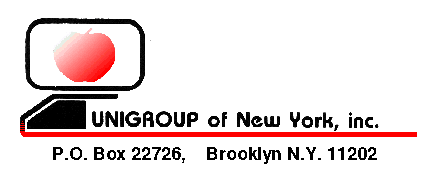 Unigroup of New York, Inc. - New York City's Unix User's Group
---
Unigroup Background
Unigroup is the oldest and largest Unix User's Group (Unix/Linux/BSD) serving the Greater New York City Regional Area since the early 1980s. Unigroup has been serving the NYC Unix Community for over 30 years!
Unigroup is a not-for-profit, vendor and platform neutral, member funded, volunteer organization. Unigroup holds regular and special event meetings throughout the year on technical topics relating to Unix and the Unix User Community. Most Unigroup meetings are open to the public!
Unigroup presentations cover topics relating to both Unix and Unix-like Operating Systems (Unix/Linux/BSD), as well as other related technologies including: Computers, Communications, Cryptography, Internet, Networking, Security, Storage, Software Development, Web Development, Systems Administration, Free Software, Open Source and Software Tools.
Unigroup meeting topics span ALL varieties of UNIX, BSD, LINUX, and related Operating Systems, covering both Commercial / Closed Source, and Freely Available / Open Source: projects, products, methods and tools. Our Unix/BSD/Linux technical presentations have covered subject matter relating to the following operating systems and projects: AIX, HP/UX, IRIX, Solaris, OpenSolaris, OpenServer, UnixWare, FreeBSD, NetBSD, OpenBSD, RedHat, CentOS, Fedora, SuSE, OpenSUSE, Debian, Ubuntu, OpenLinux, as well as a variety of other distributions.
Next Meeting:
Unigroup's May 2013 Meeting will be at our regular meeting location, at: The Cooper Union, School of Engineering (** New Building **), located at Room: 505_CS (** Room Changes Month-to-Month **), 41 Cooper Square, East Village, Manhattan, NYC., on THURSDAY, May 16th, 2013 (** Regular 3rd Thursday Meeting **) at 6:30pm.
Our presentation topic is: Comparison of Configuration Management Systems and our speaker is: Sam Kottler. from The Foreman Project / Red Hat.

RSVP for Unigroup's next meeting via the Unigroup Next General Meeting Page, this page includes information specific to the upcoming meeting.
Upcoming Unigroup Meetings/Events:
16-MAY-2013: [3rd Thursday] Configuration Management Systems Comparison.
20-JUN-2013: [3rd Thursday] Oracle/Sun Solaris 11.1 Release Meeting.
---
Unigroup Meetings: Topics and Agenda
---
Unigroup Membership and Meeting Information
---
Unigroup Contact Information
Contact us by Electronic Mail at: unigroup@unigroup.org
Contact the Board of Directors at: uniboard@unigroup.org
Unigroup Regular meetings are held on the 3rd Thursday of Odd-Numbered Months at:

	The Cooper Union
	School of Engineering (New Academic Building)
	Room: To-Be-Announced (changes from month-to-month)
	41 Cooper Square  (3rd Avenue @ 7th Street, between 6th and 7th Streets)
	East Village, Manhattan
	New York City

---
Unigroup Board of Directors and Volunteers
---
Unilist - Unigroup's Electronic Mail Mailing List
Unigroup maintains an Electronic Mail Mailing List to which we send out Unigroup announcements, regional technical events, trade show and conference notifications, as well as announcements from other user groups around the area. Anyone may request to be added to this list by sending a Subscribe Unilist Request to: unilist@unigroup.org
Unigroup's Unilist EMail Newsletter Archives
---
Unigroup Announcements
The current Unigroup Meeting Announcement is available on Unigroup's Web Server under the URL http://www.unigroup.org.
Please always check the Unigroup Home Page and Unigroup Next Meeting Page for the latest information. Unigroup announcements are Emailed, and current/past meeting information is posted on our web site.
Years ago, Unigroup published a Printed Newsletter, to view some Unigroup history:
Click here for the Unigroup Printed Newsletter November 1997 (PostScript).
Click here for the Unigroup Printed Newsletter January 1998 (PostScript).
Click here for the Unigroup Printed Newsletter July 1998: Page1 Page2 Page3 Page4 (PostScript).
---
Unigroup's News and Special Event Listings
Follow this link to see News about User Group Meetings and other Special Events in our area.
---
Other Unix Related Sites
---
User Groups
Greater N.Y.C. Regional User Groups: Casandra'a NY/NJ/CT Computer User Groups List, Brian's New York City User Groups Calendar.

Greater N.Y.C. Regional Unix/Linux User Groups: UNIGROUP, NYCOSUG (Sun Solaris), NYCBUG (BSD), PowerAIX/Linux (IBM AIX), LOPSA-NJ (SysAdmin), LOPSA-NYC (SysAdmin), NYLUG (Linux), NYLXS (Linux), LXNY (Linux), LUNY (Linux), LILUG (Linux), MHVLUG Mid-Hudson Valley LUG (Linux), DACS CT/Danbury Area Computer Society (Linux SIG), Casandra's NYC Area Unix/Linux Groups.
---
We Need Your Help
Unigroup needs your help! Please contact us if you can help out in any of the following areas:
Meeting Topics
Meeting Speakers
Organization and Setup of Regular Meetings
Organization and Setup of Unigroup's Booth at Trade Shows
Volunteering to Help Staff Unigroup's Booth at Trade Shows
---
Webmaster (unilist@unigroup.org)
Copyright © 1996-2013 Unigroup of New York, Inc., All rights reserved.