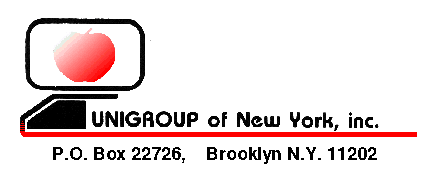 Unigroup's 2023 Interum Board of Directors
---
Board Member Officers:
Robert Weiner - Executive Director - Web/EMail/Meeting/Food/Speaker Coordinator.
David Lew - Assistant Executive Director - Meeting Sign-In Coordinator.
Jeff Jonas - Treasurer - Publicity and Meeting Sign-In Coordinator.
Matthew Hirsch - Secretary.
Board Members:
Dan Budne - Membership Database Coordinator.
Matt Rothman - Meeting Food Coordinator
Art Sullivan
---
Webmaster (unilist@unigroup.org)
Copyright © 1996-2023 Unigroup of New York, Inc., All rights reserved.